Posts Tagged 'Jessica Simpson'
Thursday, July 8th, 2010
Southern Fried Snark Episode 33
(more…)
Friday, April 23rd, 2010
Southern Fried Snark Episode 24
(more…)
Thursday, April 22nd, 2010
Southern Fried Snark Episode 23
(more…)
Tuesday, April 13th, 2010
Jessica Simpson definitely was making a point when she loudly announced that her spread in Marie Claire would feature NO makeup, NO product, and NO retouching.
Thing is, people ain't buyin' what she's sellin'.
Although, yes, it's clear that she is not as made-up as she typically is, many are saying that she's clearly been retouched and there's been a bit of Photoshopping done to her images.
You be the judge.
Edited to Add: Apparently Britney is taking the same bold move.. although hers REALLY don't look retouched.
Tuesday, March 23rd, 2010
So I saw a banner ad the other day that reminded me that LC (Lauren Conrad of The Hills to those of you with taste in tv) has a new clothing line at Kohl's.  I went to go check it out because, well, I'm that person.
The first thing that I admired/wondered about her line was that she said she "enjoyed designing for all shapes of women".  Hm.  Well, LC grew up in the OC, then moved to LA.  I'm not sure how many SHAPES of women there are in those two locales.. judging by what TV has shown us, there is only busty and bustier.. but hey!  Maybe she's taken a hint from some former stars who promised the same and then never stocked anything over a size 6.
(AHEM, JLO.)
I actually rather love this maxi dress.  Then again, I live in Alabama, so I'm a sucker for any maxi dress.
I love this tee for many reasons.  One, I love to layer.  And this is a GREAT tee for layering.  Two, it would work with a pair of dress capris as well as jeans.  Three, nevermind, I don't need three, I'm going to buy this anyway.
Same with this tee.  Nautical stripes are HUGE this season, and this is a robust-enough top that it will carry you past the ahoy, matey phase.  Plus, you can wear some great statement necklaces with this (just make sure they're one color) and I adore that.
While we're also talking about stars and their clothing lines, I found some of THE CUTEST dresses while dress shopping the other day.
This Jessica Simpson dress is just SO PRECIOUS.  I loved the spring-y look of it and it felt like I was suited up for a garden party.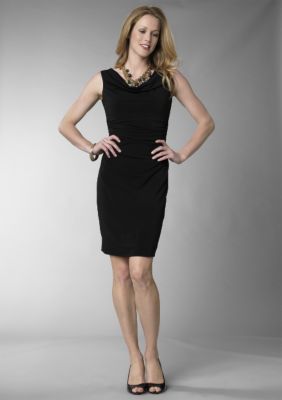 This LBD by Kristin Davis is so perfect.  It was cut well, hugged curves while slimming.. just perfect.
And, of course, chances are that if you adore a celebrity, they've started their own clothing line so that you can show that adoration through cold, hard cash.
(Like, "Sheen Kidz — by Charlie Sheen"?  REALLY?)
(Photos: Kohls, Belk)
Thursday, February 11th, 2010
Southern Fried Snark Episode 10
(more…)
Friday, February 5th, 2010
Southern Fried Snark Episode 8
(more…)